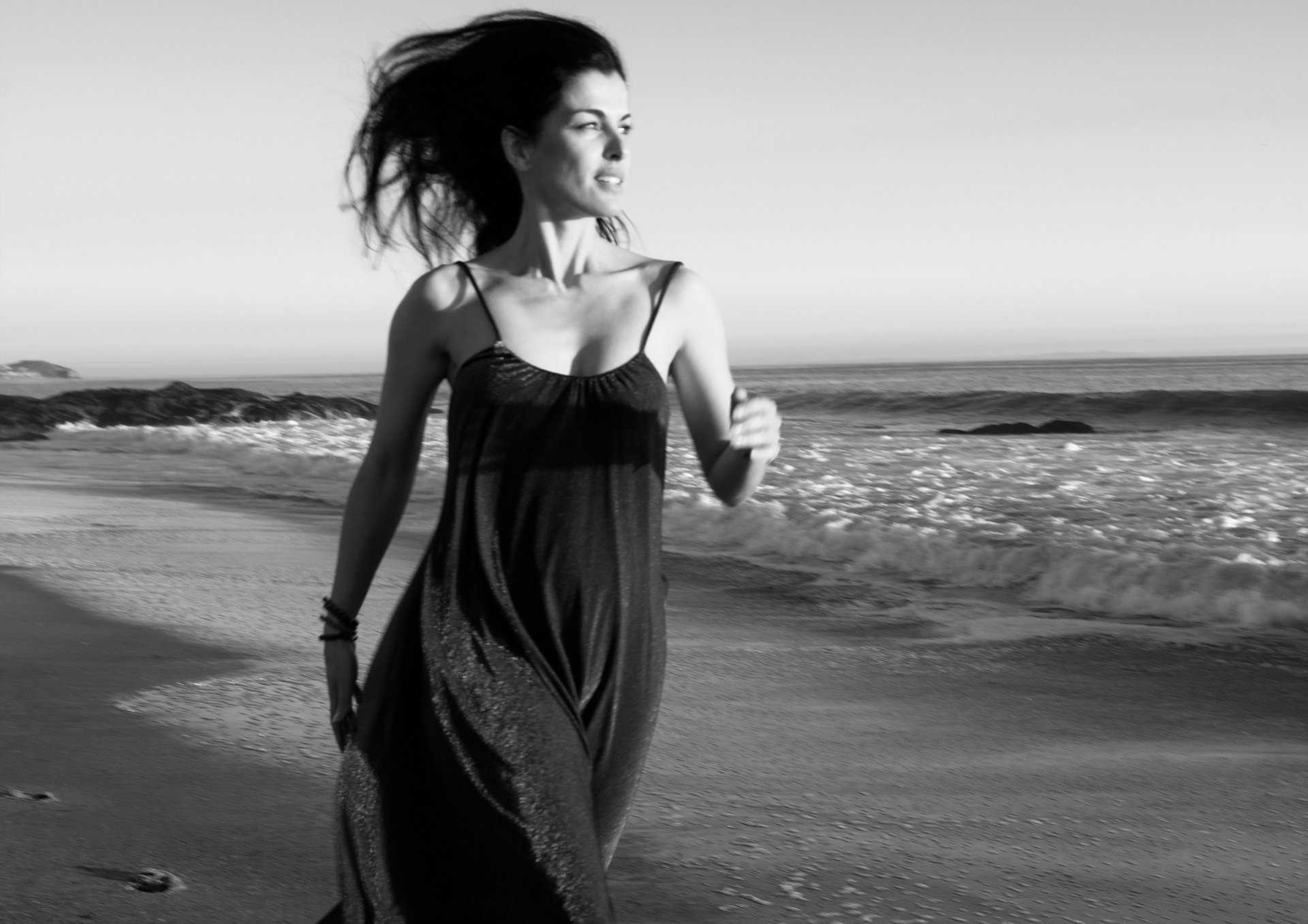 THE ARCHIVE: You are a model and Reiki therapist, but how would you describe yourself?
WENDY: My existential closet? It's filled with hats. Those proverbial hats I wear on any given day: Mother. Ex-Wife. Daughter. Sister. Friend. Healer. Model. Adrenalin Junkie… The list goes on and on… I love seamlessly flowing from one to another. To be able to explore myself in so many different realms and from so many different angles truly thrills and excites me.
TA: How did your path towards fashion begin?
W: I was raised in a very small village in Holland, to an Indonesian/Indian Father and a Dutch mother. I moved to the USA to pursue modeling at the age of 16 after appearing and making it to the finals on a National Modeling competition on TV. Throughout the course of my career, I traveled the world & was exposed to many cultures, ethnicities and religions. I am so fortunate to have worked with so many top photographers such as Patrick Demarchlier, Steven Meisel, and Fabrizio Gianni, I have appeared in Campaigns such as Guess, Victoria Secret and Bebe and graced the covers of Magazines all over the world such as Elle, Cosmopolitan, Shape, Harpers Bazaar and Marie Claire. I am grateful to have had all these experiences come my way at such a young age, preparing me eventually towards a path of healing.
TA: When did Reiki first get your attention?
W: I have always been interested in natural healing techniques to help in various areas throughout my life. My Indonesian Grandmother introduced me to her Psychic Abilities and medium-ship, both of which had always fascinated me.
I studied and experienced Homeopathy, acupuncture, nutrition response testing and worked for a period of time in the chiropractic office of my Ex husband and still my best friend Dr. Evan Berk in Beverly Hills.
I discovered Reiki while having a conversation with a stranger in a boutique. I had never heard of Reiki before but when she explained the magic and healing power of this vibrational energy medicine, I was instantly drawn to it and wanted to explore it further. Shortly after, I took my first class and started my formal Reiki Training. It wasn't long before it became clear to me that being a healer was my true path. The other abilities such as medium-ship and animal communication surfaced gradually as I became more immersed in the world of energy healing.
TA: How has it changed your life?
W: Becoming a Reiki Master has put me in touch with my true self and helps me live a more authentic and loving life.
TA: How would you define beauty?
W: My years of modeling and its superficial validation, made me yearn for deep meaningful soul connections that go beyond the physical. Beauty comes from the inside out. It's a light that shines through from the heart. There's a quote that I love that speaks to this…"if only our eyes saw souls instead of bodies, how very different our ideals of beauty would be." The relationships that I've cherished the most are the ones that allow me to feel completely comfortable being myself and who appreciate me most when I am au natural!
TA: What is your favorite part about being a Reiki Practitioner?
W: In my day to day, I help people who are going through difficult times. The list of what people call me for Reiki and intuitive counseling is endless! Some of the calls I get are to treat postpartum depression, end of life transition, relationship issues. I help entrepreneurs, recovering addicts, cancer patients and people going through relationship difficulties by offering tools and intuitive guidance and much more… Lot of my client are in states of emotional distress release stress hormones that act in the brain much like addictive drugs and people develop literal addictions to states such as anxiety, hurt, regret, and self-pity. I recently officiated a divorce of a couple I've been treating who wanted their parting to be a ceremony of love, it was very touching and beautiful and I was honored. Not one session is the same. Sometimes a person hires me to help their pet, but once I get there, the person becomes the priority and the pet was just the catalyst and visa versa. I've also assisted clients who want to reconnect with a loved one who has passed on. The positive feedback I get from my clients makes the work I do feel very rewarding and I am humbled by it.
The universe is based on the interaction between positive and negative ions. Energy flow is based on the interaction between those positive and negative ions. The disruption of the flow of energy is what creates conflict. My job is to clear up the conflict. Learning Reiki opened a door and showed me a way where I am able to help people and animals, in a way that feels very fulfilling to me. I love what I do and I'm open to whatever client/situation the universe throws in my lap.
TA: What has been your best model experience up until today?
W: There are so many, but perhaps the one that had the most impact on me was a fashion shoot in Tunisia where I rode barefoot on this beautiful Arabian Horse flying through the sand at max speed with the client and photographer trying to capture us along side in a Jeep. It's amazing what a horse can do for your soul. I always feel peaceful, total harmony, and complete freedom.
TA: What is the link between modeling and being a reiki therapist to you?
W: My years of being in front of the camera, working with ever changing creative teams and traveling and living all over the world, taught me how to adapt and relate to such a diverse group of people- with different dreams and beliefs, cultures, religions and different situations.
Getting to the other side of career confusion, relationship issues and endings, becoming a Mom, have taught me life lessons I am inspired to teach. I am so grateful to be able to continue pursuing both professions and appear in articles/magazines as both a healer and a fashion model.
TA: We are a magazine that focuses on relating fashion/design/art to innovation and sustainability. What innovative measure would you take to preserve our planet? (It can be a super power of your invention or a more realistic measure, whatever creative solution comes to your mind!)
W: Through the work I do as a healer I can help people achieve a calmer, more peaceful state of mind. By letting go of the fear and frustration that so often runs our lives, we naturally become more empathic, which allows us to connect to people and the world around us more easily. This not only enhances our capacity for love, it deepens personal relationships and can heal old mental and emotional wounds that keep us stuck. By helping people and animals, one by one to live a happier and healthier life, I hope to create a positive change that causes a rippling affect and leaves the universe a more positive place.
TA: If you had to choose one favorite word, what would it be and why?
W: Choice: All of us always have choices, and we are exercising them every day, every minute and every second. Your life is a product of choices. Choose YOU!!!
TA: What advice would you give your 15 year old self today?
W: Give. But don't allow yourself to be used. Love. But don't allow yourself to be abused. Trust. But don't be naive.
Listen. But don't lose your own voice.
TA: Where do you see yourself in 5 years?
W: I live for today and in the moment and not look too far ahead. Its good to plan for the future and take an action towards that but then to shift your focus back to today and the present moment. The thing is, you can't see the whole path anyway and it will shift and reveal itself along the way. It's important to stay completely open to what the universe has in store for you, which is usually much better then you could have imagined it. I see myself continuing to grow as a person and a healer.
<Back