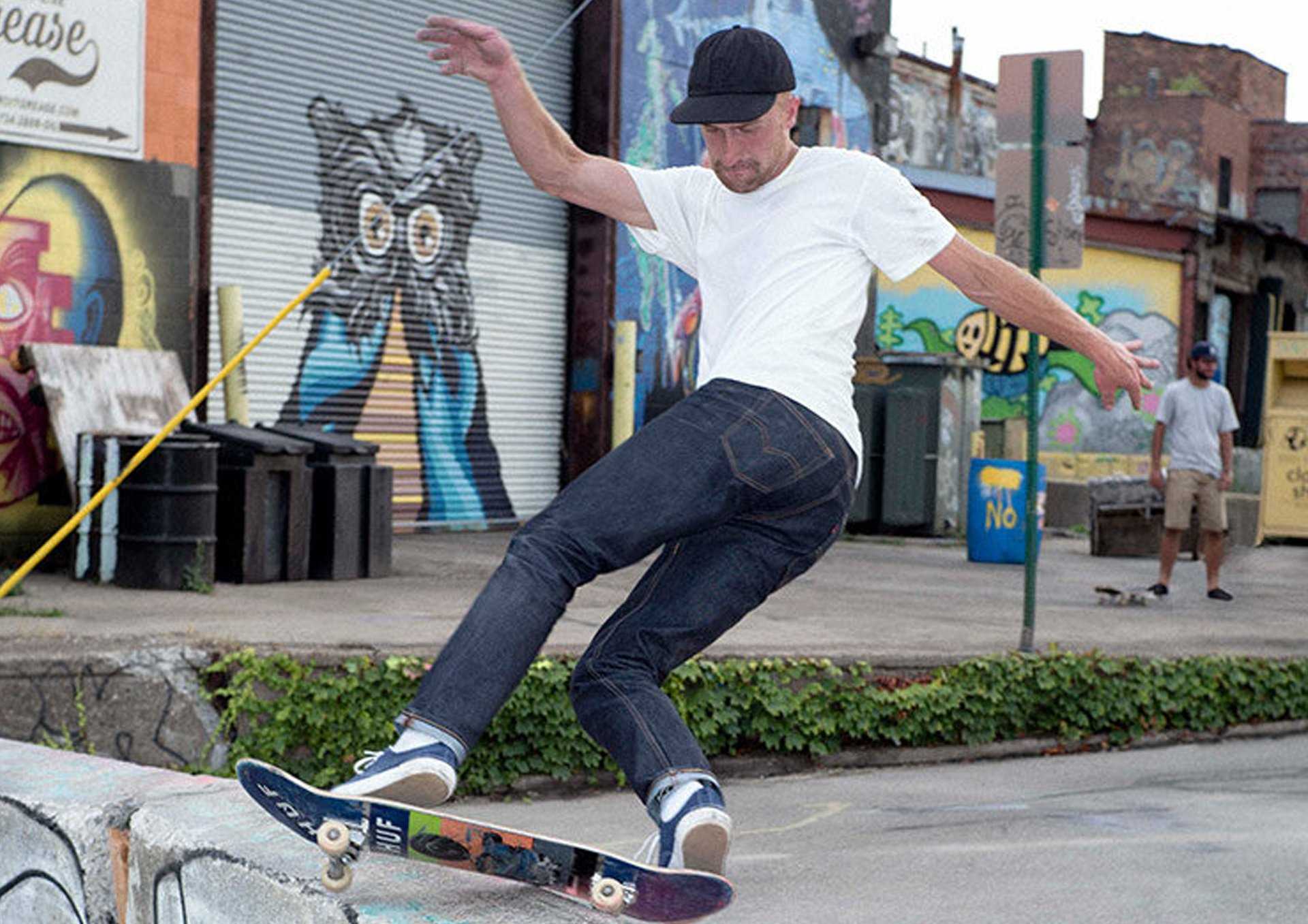 WORDS by INÉS CALVO RUBIO
Beneath those words lies the new skateboarding collection signed by the unstoppable Levi Strauss & Co. Could have had imagined Mr. Strauss that almost 150 years after his first blue jean, his project and inspiration would have continued evolving until what it is nowadays: a worldwide famous icon? We really hope he did.
The man with the denim dream. Who was he?
Levi Strauss, "the inventor of the quintessential American garment", was born in Bavaria in 1829. Two years after the death of his father, he and his family decided to immigrate to New York to join his two older brothers' wholesale dry good business, J. Strauss Brother & Co. However, in 1853, Levi – following what was already being called "the Gold Rush" – decided to cross the country and settled himself in San Francisco. There, he became not only a wealthy man in charge of the West Coast representative of the family's New York firm (which, by the way, he eventually renamed as Levi Strauss & Co.) but also a famous philanthropist. Just a year after he arrived to San Francisco, he donated a great part of his early profits to a local orphanage, the Pacific Hebrew Orphan Asylum and Home—a project that the company continues to support nowadays. Still, the turning point in his career came in 1872 by the hand of one of his customers, Jacob Davis, a tailor from Reno, Nevada, who was asked by the wife of a local labourer to make a pair of pants for her husband that wouldn't fall apart. Jacob then, came up with the idea to put metal rivets at points of strain like pocket corners (where people were constantly putting their hands in and out) and the base of the button fly. These riveted pants were an instant success and Davis quickly decided to take out a patent on the process. When considering that he needed a business partner to help him get the project rolling, he remembered Levi Strauss, from whom he had purchased the cloth to make his successful riveted pants. Soon, the first jean was made and sold, turning itself into a hit (we should note here that the name "jeans" was adopted in 1960 by baby boomers. Before the 60s, they were referred to as "waist overalls" or, simply, "overalls".)
So the next time we see someone wearing a pair of Levi's® jeans, we should remember that they are a direct descendant of that first pair made back in 1873. A year in which two visionary immigrants – Levi Strauss and Jacob Davis – turned denim, thread and a little metal into what has become the most popular apparel on earth.
What makes Levi's® so special?
"Originality", "empowerment", "the opportunity to make an impact" are just a few ideas mentioned by Levi's employees when asked that same question.
We believe its culture, based on really strong values such as creativity and hard work, together with their use of sustainable, innovative and progressive techniques, has made Levi's the giant that is today. With innovation at the centre of everything they do (from the first pair of jeans until the implementation of cutting-edge design techniques), sustainability at the top of every project they pursue (such as the Better Cotton communities, the Water<Less™ jeans or the Waste<Less™ jeans) and progress as a constant dedication (from implementing HIV/AIDS employee education to championing equality for women and girls), the company encourages a healthy world and better future. Empathy, originality, integrity and courage are values that Levi Strauss & Co. invariably strive to build a culture just as inspiring as the people who wear their jeans: generations of individuals, leaders, thinkers, doers and, this season more than ever, skateboarders.
"It is about everybody skating it!"—Evan Hutchings, Detroit skateboarder
This Spring/ Summer 2017, Levi's® has launched a new brand skateboarding clothing collection featuring pieces such as its popular and versatile 511™ Slim, the "favourite" among the pros: the 504™ Regular Straight, the classic slim with straight leg 513™ and the classic Work Pant – this time, made to skate -, in between other items and garments.    This season "delivers big" on comfort and durability, presenting and emphasizing its riveted construction, extra stitches and bar tacks for reinforcement and double-layered back pockets. Their inspiration was nothing less than the Port of San Francisco a few years ago, during WWII, when it was the main harbour for Western United States trade and military deployment. Precisely because of that, the collection introduces new outerwear pieces inspired by the shipyard workers at Hunters Point in San Francisco and, more specifically, the riveters who worked on the ships during World War II. As dock workers, during the early 20th Century, wore basically purposeful garments, durable to withstand physical demands of daily labour and layered to brave the ever-changing climate of the Bay, Levi's Strauss & Co. has embraced simple designs such as vests, coats, work pants and denim as the main source of inspiration. Thanks to the extensive Levi's® Archives filled with historical product, the design team was able to revisit this era, evolving the designs to meet the demands of modern skateboarding. Besides, while we are aware that the style of this collection may look as timeless as the original dock workers back in the 1900s, its fit and durability, however, have evolved by combining LYCRA® T400 fabric for stretch and CORDURA® fabric for strength—a unique nylon fibre blend with inherent anti-static properties specifically engineered to be combined with cotton for higher durability and to dissipate fabric to fabric and fabric to surface static. Designed to be worn in environments where durability is a key requirement and static electricity is both a hazard and a nuisance, it has applications in military, workwear uniforms and, now, thanks to Levi's Strauss & Co. skateboarding as well. Focusing on performance details that offer skateboarders of any level greater comfort through mobility, breathability, strength and protection, the Levi's® Skateboarding Collection is intended to withstand the harsh punishment skateboarders endure.
Nonetheless, being loyal to their values and reputation, this collection is not only about designing a specific product but also about being committed to the spirit behind the sport whose line has been inspired by and designed to, skateboarding. The company is completely dedicated to help the global skate community by enabling access to new and existing skate spots, building DIY parks and supporting local shop-events. One of those projects, the Detroit Community Push, helps a "grassroots group" that builds DIY skate parks and supports local skateboards while, in other cases such as the Christchurch New Zealand's skate park build, Levi's® has shown its commitment not only to the skateboarding community but also to the rebuilding of a city which was massacred by a terrible earthquake in 2011.
And now, what's left?
"Looking forward"—said a local Christchurch skateboarder. And we agree, let's see what the future – and Levi's Strauss & Co. – holds for us.
<Back