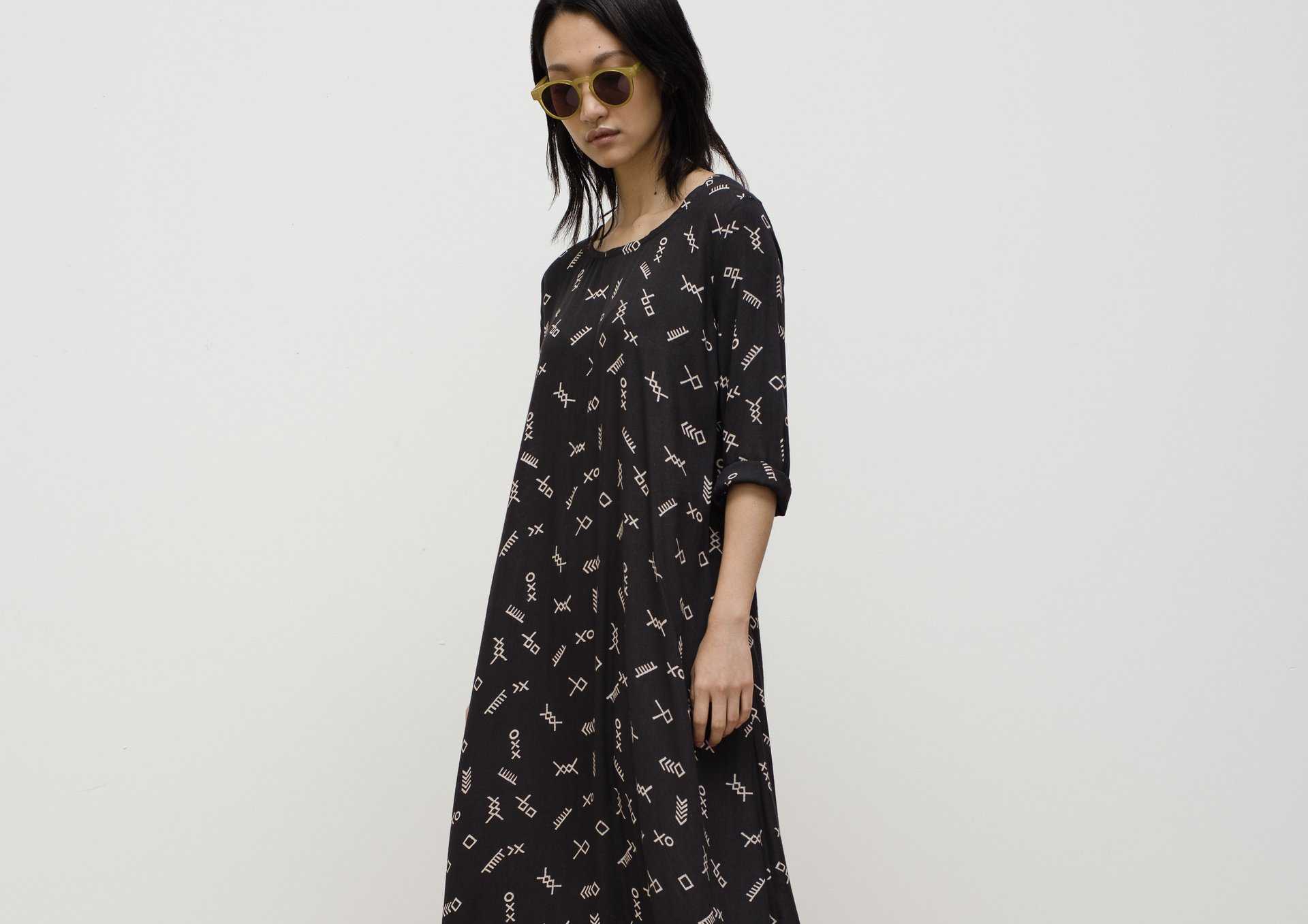 WORDS by Inés calvo rubio
"Osei Duro"—what comes to your mind when you first read or hear those two words? You may not be aware of their meaning (*one who is impermeable to negative vibes) or their country of origin (Ghana), but you definitely cannot let the incredible fashion project which is behind that brand name go unnoticed
Molly Keogh and Maryanne Mathias met in the Vancouver Waldorf High School, a place which offers an alternative to high pressure education by supporting the development of confident and creative thinkers. Far from considering if the policy of the school encouraged their artistic union in any sense, what we know for sure is that Molly and Maryanne became friends through their mutual obsession with fashion and textiles. As Molly declared to Accra Dolt Alt Radio: many years after leaving high school—once they were both working inside the industry—, Maryanne was the one who approached her about a textile research trip to Ghana. Molly's acceptance led both friends to meet again to travel and live in Africa for several months, discovering the people and falling in love with their culture as their new fashion project was taking shape. "It's grown from a curious and wild idea into something that totally consumes us", said Molly: "we are not of Ghanaian descent but we liked the look and the sound of the name. "Osei" means "powerful", or some say it means destroyer; "Oduro" is "medicine", or bad omen." Thus, their project "one who destroys medicine" or "one who is impermeable to negative vibes"; that is to say, Osei Duro consolidated and grew strong in the hands of two brave women, eager to face any possible setback.
Nowadays, the duo travel between Los Angeles, California and Accra, Ghana to design their inspirational and coveted line of hand-dyed and batiked women's wear. The two of them recognise the importance of working with local garment workers and artisans to create their collections by applying African traditional techniques to each piece. Transparency becomes, therefore, a key point at Osei Duro. While it's important that the clothes are able to stand anywhere in the world from a design perspective, Molly and Maryanne say they are also proud of where the work comes from, and especially the people who make it possible. They consider that their aim is also to help develop systems that allow the tailors, dyers and seamstresses they work with to improve their own businesses' success; an undeniable arduous mission, given that working on a smaller scale with specialised craftsmen normally leads to a longer production time. In any case, both designers are completely engaged with the beautiful idea their project underlies: that of an old-world methodology which encourages a more ethical and sustainable fashion world.
Beyond their unique story, Osei Duro recognises being inspired by rulebreakers whether that's Rei Kawakubo with Commes des Garcons, Vivienne Westwood with Seditionaries, Leigh Bowery with his costumes, or Hussein Chalayan with clothes as furniture because, as Molly admits, "fashion has a great power to expand our comfort levels, and therefore, entire ways of thinking." In Ghana, their aim seems to be a little bit complex given that people are more into aesthetics from around the time of independence (an Afro variation on a look that's being called "heritage" in the U.S. right now) but Maryanne and Molly remain firm, they believe in evolution and change and they would love to see "people get freaky with their self-expression, and go sideways with something totally unexpected." The duo thinks that in order for the textile and garment industry in Ghana to thrive, there must be a variety of exciting offerings and they definitely want to be part of that movement. That may be a reason why this fall, Osei Duro have thought about linear and geometric prints and how they distort on the human form, especially as slouchy clothes. They are bringing in stripes and plaids, all of them uneven and distorted, imperfect… That idea of a mathematical form that is handmade, so a bit soft around the edges. The predominant colours are also moody and raw, a little emotional and even bruised. It's all about juxtaposition, an inside out thing: is the body wearing the dress or is the dress wearing the body?
So, what's next? While working to set up a facility that experiments with traditional textiles, merging them with the right infrastructure and training to create something that is consistent and still distinctive and exquisite, Osei Duro—having already designed an entire houseware collection— is in fact researching the fashion retail industry in India with an eye to expand to the South Asian market. Their longer term plans involve a roof balcony in Kanda Estate with a passion fruit vine, and an artist residency program that brings people in from all over the world to collaborate with the incredible creatives there in Accra. Ambitious, fearless and original; an absolutely impermeable to negative vibes horizon.
<Back